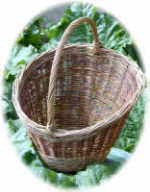 Willow baskets designed and made with a contemporary style
Plant supports and willow sculptures
Basketmaking and chairseating classes and workshops
Demonstrations of basketmaking at craft and country events
Willow weaving activities for children
Willow and living willow sculpture projects
XXXXXXXXXXXXXXXXXXXXXXXXXXXXXXXXXXXXXXXXX
I make and sell my own work. Whilst I often work in association with other artists and craftspeople, I do not usually sell other makersí work and rarely make goods for the retail trade.
Due to the enforced move out of my studio at Englefield, my basketmaking business has had to be severely reduced. In particular, my teaching program has been curtailed and my award winning Willow Wednesday class will no longer take place. However, I still accept commisions for chair seating and I hope to be able to offer basketmaking and willow weaving classes in autumn 2016 if I find suitable premises for working and storage.
If you would like to be included on my mailing list to receive regular updates about basketmaking courses please email info@stripeybasket.co.uk with subscribe in the subject box.