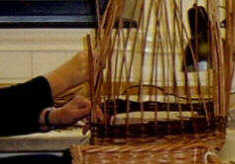 <![if !vml]><![endif]>Come and make your own traditional English willow basket. You will learn how to use a pairing weave to make a round base, how to stake up, weave the upsett with waling, weave the sides using waling or randing, and how to finish the top with a rod border. If time permits you can also add a handle to a basket. You will learn how to prepare, select and use English willow, how to use different colours and textures to pattern the basket and how to use traditional basketmaking methods to make quality baskets that you can take home and use in the years to come. You will look at baskets with new eyes in the future!
No previous experience of working with willow is required for this workshop. Those with some experience who would like to work on a specific project are most welcome. Please contact me beforehand if you need special materials prepared for you.
Students will work at tabletop height, mostly sitting down. Super-fit physical agility is not required for this workshop although some bending to floor level is required.
Please bring sharp secateurs, a sharp craft or gardening knife such as a Stanley knife, a weight or bag of pebbles of about 4lbs in weight and an old sheet or towel for wrapping materials. Wear old or working clothes because the materials can be grubby.
The class is held as a two day course usually on Saturday and Sunday, and is regularly run at Dinton Pastures Country Park, Winnersh, near Reading, Berks. The course takes place in the Multi-Activity Centre at the Black Swan Sailing Club. Dinton Pastures offers good opportunities for a lakeside walk at lunchtime, or a visit to the willow beds. There is a café for lunch or you might like to bring your own picnic.
I also offer half day basketmaking classes using Danish or Catalan techniques. I also offer intermediate or advanced classes , one day basketmaking classes for frame baskets or simple squarework, or more advanced classes teaching ovals, squarework and other techniques.
For further information about basketmaking courses or to book a place call Christine on 0118 966 2250 or e-mail