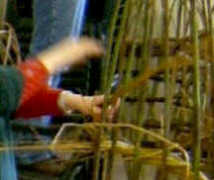 <![if !vml]><![endif]>In this workshop you will learn how to make plant climbers that add structure to any garden.
In a day you can expect to make your own sweet pea support and possibly one other item. During the day we will explore different designs for round obelisk structures and look at the potential of willow as a material. If time permits, we will also look at techniques for making flat pieces such as trellises, wall fans, lawn edging panels and decorative hurdles. You will learn how to prepare, select and use English willow combined with traditional basketmaking methods to make quality structures to take home and grace your garden.
No previous experience of working with willow is required for this workshop, although students may find that some knowledge of willow basketmaking is helpful. Those with some experience who would like to work on a specific project are most welcome.
Students will work at tabletop height, mostly standing up. Super-fit physical agility is not required for this workshop although some bending to floor level and stretching to above head height is required.
Please bring sharp secateurs and a sharp craft or gardening knife such as a Stanley knife. Wear old or working clothes because the materials can be grubby.
For further information or to book a place, call Christine Brewster on 0118 966 2250 or e-mail